Join us for our 65th annual Roxy Ann Gem and Mineral Show. Our Vendors are offering a wide variety of specimens, gems, rough rock in addition to finished jewelry for sale. We have live demonstrations by our members in lapidary arts, wire wrapping, plus a geologist available for rock identification. Free hourly door prizes are awarded (must be present to win), silent auctions, two cases of items to be raffled, and many activities for the kids.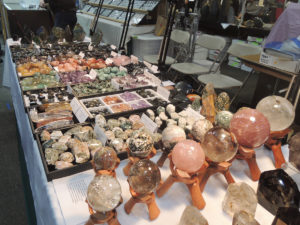 Check out our member display cases and vote for your favorite display.  There will also be a public auction of deaccessioned museum pieces Saturday evening starting at 5:30 pm. Don't miss it!
April 4 & 5, 2020
Olsrud Arena
Jackson County Expo
Central Point, Oregon
Saturday 9AM – 5PM, Public auction at 5:30
Sunday 10AM – 4PM
Adults $5
Seniors $3
Students $2
Children under 6 are FREE!
Roxy Ann Gem & Mineral Society runs the Crater Rock Museum and is a non-profit organization whose mission is to educate and enlighten people of all ages in the study of earth sciences, geology, lapidary, mineralogy, natural history, and paleontology.