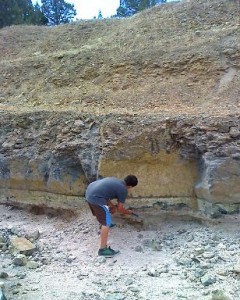 Starting in the spring and continuing into the fall, the society hosts a field trip one weekend a month for all members and their guests. Most trips are one day adventures to collection sites around Southern Oregon and Northern California. Some trips however, may run two or three days, such as the coast trip for fossils and beach agates, the annual Davis Creek Trip for obsidian, a trip to Richardson Ranch for thunder-eggs or to Rabbit Hills for sunstones.
Many members make a trip to Quartzite, Arizona in January and February for the
Desert Gardens Gem & Mineral show. Other trips to Eastern Oregon and Nevada have been planned by members and are usually open to other members to join in and caravan.
If you would like to participate in the society's field trips, then become a member!