Need to rent a hall for that special occasion?
Whatever your meeting requirements, we probably can accommodate you! Our halls are perfect for your event! Serving the communities of Central Point, Medford, Phoenix, Talent, Ashland, Shady Cove, etc., for all your special event needs.

Multi-Media Hall seats 75 and has a coffee station and sink area. Are you planning a fund-raiser, such as a "Bingo" get together? A birthday party? If you're planning a business meeting, you may want to take advantage of our Wi-Fi and Internet capabilities (you'll need to supply your own computers). The Multi-Media room is also available for long-term rentals; we can accommodate on-going training sessions, monthly staff meetings, etc. If you have such a need, come in and we'll discuss our long-term rental contracts with you. The hall is available any day of the week, including weekends, or any evening.
Mentzer Hall is very unique. The hall houses exhibits, Thundereggs (Oregon's State Rock!), agates, petrified wood, as well as specimens from around the world. This wonderful, warm environment is the perfect setting for a wedding reception, baby shower, holiday party, and such. But don't shy away from holding your business meeting in this hall as well! The room seats 99, and has an attached full-service kitchen you can use to prepare your food, if you'd like, or to keep items warm. Mentzer hall is not available during museum hours, Tuesday through Saturday, 10am to 4pm. HOWEVER, the hall's available after 4pm any day of the museum work-week, Tuesday through Saturday; and any time Sunday or Monday. So, please stop by, let us host your next special event!
Member Discounts of 25% apply to hall rentals. So, if you're a Roxy Ann Gem & Mineral Society member, plan to hold your next event at the museum facilities and take advantage of your discount!
For additional information, contact:
Crater Rock Museum @ 541-664-6081, roxyanngems@msn.com
Crater Rock Museum
2002 Scenic Avenue
Central Point, OR 97502
Hall Rental Rates
Mentzer Hall
Seats: 99
$85.00 for first 4-hours
$20.00 for each additional hour
(Kitchen – $25 to use Kitchen utensils & to cook)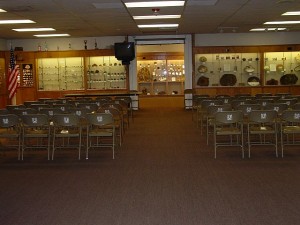 Multi-Media Hall
Seats: 75
$60.00 for first 4-hours
$15.00 for each additional hour