For a unique shopping experience,
Visit Crater Rock Museum's Gift Shop!
You'll find jewelry and gifts inspired by "Mother Nature" and hand-crafted by our talented rock club members. A variety of rock and mineral specimens – such as petrified wood, crystals, and geodes – are available for collectors of all ages. Choose from a variety of books and DVDs to support your lapidary needs. Crafters find an assortment of beads, cabochons, and tools. We also offer classes to help inspire your creativity.
Crater Rock Museum
2002 Scenic Avenue
Central Point, OR
541-664-6081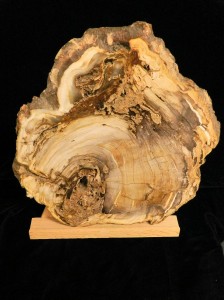 Cross-section from Petrified Bald Cypress Tree
Eroded from The Mid-Miocene Columbia River
Basalt Formation 11 to 14 Million Years ago!
11″ x 13″ Slab – $148.00